What a funky concept: being your own competition when you've established your niche or authority website. I first talked about this in my Builder Society laboratory thread. Also saw this concept in a recent Income School video which they called gray hat 🧢.
The ideal is that you know what it takes to rank on the 1st page of Google for an article like
keywords
backlinks
content length
additional content like video and images
etc…
so it should be easy for your to repeat the process a second (or third+) time on a satellite site to dominate the SERPs.
How competing against yourself would work
What you want to do is have a completely separate site in the same or a very similar niche. For instance, any new site I start is in the same niche or industry as my already earning sites. Why on earth would I want to start over again at 0 when I can start linking my new site on day 1?
So you have your main site, let's say your niche is in marketing tech stacks. You're talking about SEO tools, email marketing & CRMs, data and reporting, all of that stuff. After a few months, you've absolutely hit a home run with an article about the best SEO keyword tools.
Let's also say you've pretty much exhausted all primary content ideas you had & you're a little burnt out. So you get a brilliant idea, a special idea, a situation, another site.
Now, instead of going straight back to Ahrefs and start looking for a whole new thing to learn, you just register a new domain and start writing about…SEO keyword tools only.
You're already familiar with what works, you have fan-fucking-tastic data in your GSC, you can improve on what you've already done and start linking from your OG site.
That's the power of Pinesol, baby. An example of competing against yourself
Now I'd be a real turd to be out here talking about something I haven't done myself. Luckily, I have done this and have the screenshots to prove it.
Below is a calculator tool I made as a little lead-magnet/sharable for my main site.
It's alright, gets a little bit of traffic every day. Healthy 34% CTR from that huge spike one day when SHTF. No backlinks built for it, just built the calculator, put about 300 words of text, and published.
Here's that same calculator tool on a satellite site that's a directory for my main website's industry.
Again, create websites that are complementary to your already earning sites to start getting traffic on day 1.
Put around 150 words along with the calculator on the satellite site and the rankings are (as expected) poorer but it's still seeing a 19.7% CTR (spike included) and at the time of this writing, both lead magnets are on the 1st page of Google. Not just the 1st page, but between 1st and 3rd depending on the keyword, browser personalization, all that.
AND IT DIDN'T TAKE MUCH EXTRA EFFORT
I already knew that it was easy to rank.
I already knew what long-tail high-volume keywords to include in the satellite post.
I already knew the H2s to include and what CTAs worked
Long story short, I increased my "market share" so to speak by basically copy-pasting my content, shortening it up, and that's it.
Well, I didn't shorten it up myself. I used good ol' Jarvis to rewrite the content with AI. So it took a lot less effort than I admit, for a shitload of results.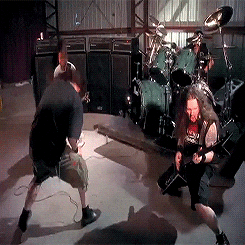 Additional use-cases I'm experimenting with
A one-off example is great and all, but what other use-cases am I looking towards?
One of my newest satellites is a SaaS tool I bought from CodeCanyon, whipped up some display ads to put on my main site, and started sending it traffic.
However, I don't want to rely on my main site for traffic. It needs to stand as its own entity.
Solution: A content plan where I'm doubling up on my order & publishing similar content on my main site, the SaaS site, and potentially rewriting and publishing on my other satellite sites, all linking back to the SaaS site.
All using my proprietary reusable block method to jam content the fuck out.